On November, 3, 2023, Alec Karakatsanis will deliver a lecture titled "Body Cameras, Copaganda, and the Fraud of 'Police Reform,'" based upon his latest paper.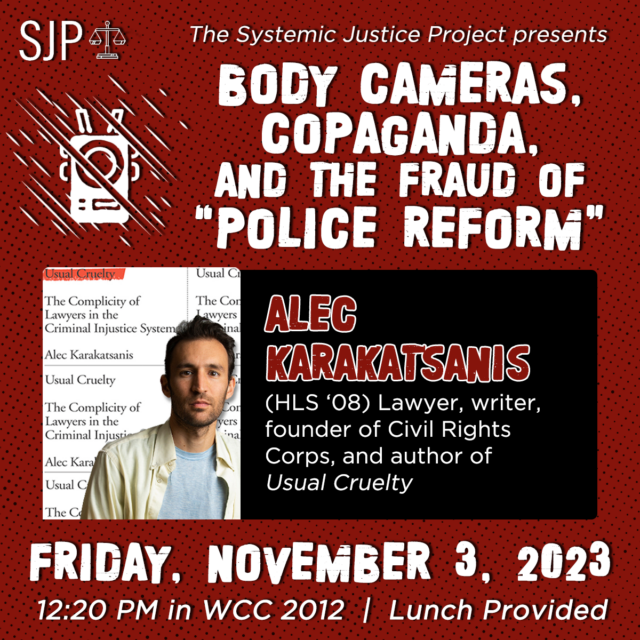 The introduction of that paper is as follows:
The United States has the largest bureaucracy of policing, prosecution, and prisons in world history.  One of the most important things to know about the "punishment bureaucracy" is that police, prosecutors, prisons, probation and parole departments, judges, and the multi-billion dollar industries and unions that evolve in symbiosis with them use their own violence and ineffectiveness to get more resources in a recurring cycle of "reform." Each failure means doing it again with more money.

Most people would prefer a society with less government surveillance, less violence by employees of the state, and less waste of public resources.  And yet they all keep increasing.  They all keep growing despite decades of "reform."  It is my uncomfortable suggestion in this article that they all keep expanding in part because of these "reforms."

The kinds of "reforms" pursued by punishment bureaucrats get well-intentioned people who lack substantial relevant knowledge but who feel bad about overt state violence to support policies that do not challenge the size, power, or profits of the punishment bureaucracy.  To understand how cycle this happens, I'm going to look at the remarkable example of the police body camera.  There is no more revealing illustration of the recurring cycle of violence, waste, profit, and public delusion.

By situating the rise of the police body camera within its actual legal, political, and economic contexts, I suggest that the body camera is one of the most important Trojan horses in contemporary U.S. history.

What follows is a case study of how the police bureaucracy used its own violence as the perfect alibi to get well-meaning people who lacked sufficient information to support greater police procurement budgets, more advanced and efficient technologies of control and incarceration, an explosion of profit for a small group of companies, and an expansion of the capacity of the government to watch us. And most remarkably: All of it happened under the guise of making the police bureaucracy more "accountable" and "transparent."
Alec is the Founder of Civil Rights Corps. Before founding Civil Rights Corps, Alec was a civil rights lawyer and public defender with the Special Litigation Division of the Public Defender Service for the District of Columbia; a federal public defender in Alabama, representing impoverished people accused of federal crimes; and co-founder of the non-profit organization Equal Justice Under Law.
Alec has pioneered constitutional civil rights cases to challenge the size, power, profit, and everyday brutality of the punishment bureaucracy across the United States.  These legal challenges have helped to free hundreds of thousands of people from jail, returned tens of millions of dollars to indigent people and families, prevented hundreds of thousands of illegal convictions, prevented the separation of thousands of families, and transformed the way the U.S. criminal punishment bureaucracy handles fines, fees, and bail.  Alec has also worked with directly impacted communities across the U.S. to design innovative new legal, advocacy, and narrative strategies for challenging widespread illegal and harmful practices of prosecutors, police, probation officers, judges, and private companies who work with them to profit from the punishment bureaucracy.
Alec has been awarded the Trial Lawyer of the Year award by Public Justice and the Stephen B. Bright Award for contributions to indigent defense in the South by Gideon's Promise. His work at Civil Rights Corps challenging the money bail system in California was honored with the Champion of Public Defense Award by the National Association of Criminal Defense Lawyers.  You can read a profile about Alec's work starting Civil Rights Corps challenging modern debtors' prisons in Harvard Magazine here.
Alec graduated from Yale College in 2005 with a degree in Ethics, Politics, & Economics and Harvard Law School in 2008, where he was a Supreme Court Chair of the Harvard Law Review. Alec lectures widely about the failures of the criminal punishment bureaucracy, typically giving hundreds of speeches, trainings, interviews, and workshops per year.
Alec is interested in genuine holistic safety for everyone and ending human caging, surveillance, police, the death penalty, immigration laws, war, and inequality. He also likes playing the piano and soccer, collecting rocks, singing, growing flowers, creating mosaics from dried flowers, repeating the same jokes until they become funny, writing poetry, and making weird paintings on large pieces of wood and metal.
Most recently, Alec is the author of the book Usual Cruelty.  He also writes a regular newsletter on Copaganda in the media called Alec's Copaganda Newsletter, and you can check it out here!
Where: WCC 2012
When: 11/3/23 12:20 – 1:20 pm EST
Lunch provided