The Justice Initiative will be on hiatus during the 2023 – 2024 academic year.  For more information about Justice Initiative activities over the last three years, see information and links below.
***
Learn more about joining the Justice Initiative here.
The Justice Initiative is a joint project of the The Systemic Justice Project at Harvard Law School and the Thurgood Marshall Civil Rights Center at Howard University Law School. The Justice Initiative, over its first three years, fostered  a robust community of social justice-oriented law students, lawyers, law-school faculty, legal organizations, organizers, and activists devoted to thinking creatively about the role lawyers can play in reimagining, dismantling, and remaking unjust systems, working to repair longstanding injustices, assisting law students hoping to pursue justice-oriented careers, and providing opportunities for further study, engagement, advising, organizing, and collaboration among its members.
Under the leadership of Jon Hanson, Justin Hansford, and Enumale Agada, the community includes roughly 150 justice-oriented law students from more than 70 U.S. law schools (a few international) and roughly 50 lawyers/law professors.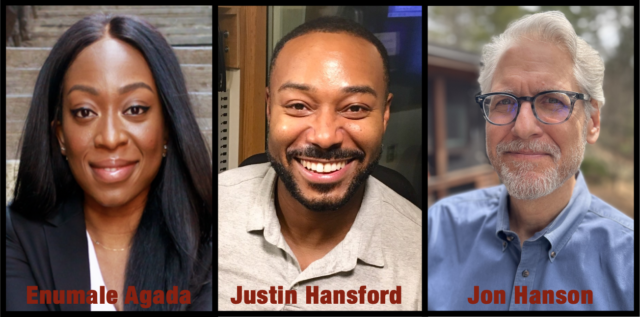 The Justice Initiative has four major elements. 
Substance and Theory: The primary events are the 3-hour Saturday Sessions—every few weeks across the academic year. Those sessions focus on substantive legal doctrines through the lens of various systemic and critical theories. have featured a variety of scholars and lawyers, including

Whitney Benns

,

Khiara Bridges

,

Ruby-Beth Buitekant

,

Bennett Capers

,

Esme Caramello

,

Kimberlé Crenshaw

,

Cheryl Harris

,

Alec Karakatsanis

,

Rena Karefa-Johnson

,

Saru Matambanadzo

,

K-Sue Park

,

Derecka Purnell

,

Bill Quigley

,

Purvi Shah

,

Bianca Tylek

, and Dr.

Cornel West

.

  A complete list of speakers and panelists can be found

here

.

Mentoring and Advising: With the help of 

Tiffanny Smith

 and 

Alexa Shabecoff

, the Justice Initiative also includes formal mentoring and career advising for member students to help ensure they have guidance and support they need to become justice-oriented lawyers. A variety of law career advisors have contributed to those efforts, from law schools around the U.S. including 

Carmia Caesar

(George Washington University Law School);

Catherine Pattanayak

 (Harvard), 

Lauren Dubin

 (Georgetown), 

Rochelle McCain

 (Yale), 

Renay Frankel

 (Northeastern), and 

Melanie Rowen

(Berkeley).
Community and Praxis: A third major element of the Justice Initiative is its community and praxis, with numerous opportunities for discussion and reflection as well as for organizing and activism. JI has collaborated with the

African American Policy Forum

, for instance, in its

#truthbetold

campaign in response to right-wing attacks on Critical Race Theory.

 

Skills: In the 2022 – 23, JI will offer a set of skills training opportunities for students as well.
Hear what Justice Initiative members are saying.
Learn about why the Justice Initiative Matters.
Find out who our speakers and presenters have been.
Watch the Justice Initiative information session for 2022-2023 below: