Systemic Justice Teach-Ins:
Building Power to Challenge Injustice
The Systemic Justice Project is helping to organize and host several "Systemic Justice Teach-Ins" during the fall of 2023.
The teach-ins, which will be open to students from area law schools and colleges, will focus on understanding and meeting the challenge of advancing justice in these increasingly fraught times.
The events will take place on Saturdays over the course of the fall semester. Each will focus on a particular social injustice and will involve lawyers, activists, organizers, and journalists who are working to fight injustice through storytelling, organizing, and lawyering.
The first of those Saturday teach-ins will take place on Saturday, 9/23, and will focus on the industrial disaster in East Palestine, Ohio; the second will look at the movement in opposition to Cop City in Atlanta. The topic of the third is still to be determined.
In an effort to narrow the gap between why many students attend law school and what they actually learn, the teach-ins will focus on how to change power dynamics and challenge injustice. They will center three ongoing struggles–East Palestine, Cop City, and (probably) climate change–and three key tools–storytelling, organizing, and lawyering. The events will also offer a place where students and young lawyers can connect with likeminded students, lawyers, and organizers to build community and power.
***
Third Teach-In: Climate Injustice – Lawyering for Justice (Late February or Early March, 2023): Details tba.
Stay Tuned for More Details about Upcoming Teach-Ins
***
Previous Teach-Ins
1. East Palestine – Storytelling for Justice (September 23, 2023)
Second Teach-In – Stop Cop City – Organizing for Justice (October, 21 2023)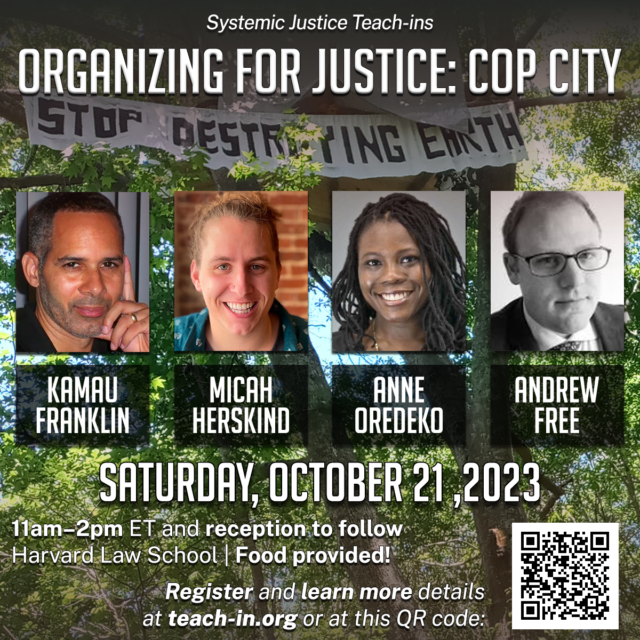 Participants:

Kamau Franklin: founder of Community Movement Builders, Inc. 

Kamau has been a dedicated community organizer for over thirty years, beginning in New York City and now based in Atlanta. For 18 of those years, Kamau was a leading member of a national grassroots organization dedicated to the ideas of self-determination and the teachings of Malcolm X. He has spearheaded organizing work in various areas including youth organizing and development, police misconduct, and the development of sustainable urban communities. Kamau has coordinated and led community cop-watch programs, liberation/freedom schools for youth, electoral and policy campaigns, large-scale community gardens, organizing collectives and alternatives to incarceration programs. Kamau was an attorney for ten years in New York with his own practice in criminal, civil rights and transactional law. He now lives in Atlanta, Georgia with his wife and two children. (Twitter: @kamaufranklin.)

Andrew Free: Lawyer, advocate, teacher, founder of #Detention Kills.

Andrew is an Atlanta-based lawyer, researcher, writer, teacher, advocate, and strategy consultant. He founded #DetentionKills, a transnational abolitionist project formed to support families and communities affected by deaths in DHS custody by organizing people in motion to demand transparency, accountability, and decarceration. He served as class counsel for more than a hundred thousand current and formerly detained immigrant workers challenging involuntary work for unjust pay in ICE detention facilities. He is a 2010 graduate of Vanderbilt University Law School and a 2004 graduate of Kennesaw State University. (Twitter: @ImmCivilRights.)

Micah Herskind: Organizer, writer, law student.

Micah is an organizer, writer, and law student. He is active in abolitionist movements against police and jail expansion, and has written for publications including New York Magazine, Scalawag, MSNBC, Prism, Teen Vogue, and Race & Class. (Twitter: @micahinATL.)

Anne Oredecko

: Special Criminal Justice Counsel at Legal Defense Fund.

Anne Oredeko is Senior Counsel at LDF and is based in the Atlanta office. Her work at LDF mainly focuses on the criminal justice system and its impact on Black people. As an Atlanta native, she has worked to support the efforts of organizers and activists in the Stop Cop City movement. Prior to her role at LDF, she was the supervising attorney of the Racial Justice Unit at The Legal Aid Society in New York City. Before this position, she gained experience in the community lawyering model at Youth Represent. She also incorporated movement lawyering into her practice through her connections with Black-led grassroots organizations and activists in New York City. She also facilitated Know Your Rights workshops, provided legal observing, technical legal advice, and direct representation for activists and organizers in NYC. In the summer of 2020, she created the Black Legal Observer Collective (BLOC) with other Black attorneys and legal workers to provide direct support to Black activists during the uprisings of 2020. Anne began her career as a public defender in Brooklyn, New York.

Some Details