Systemic Justice Course
FROM COURSE EVALUATIONS 2015

The most thought provoking, honest, interesting course I've taken at any Harvard Graduate School. . . .  I believe this should be a required course for students at all graduate schools because it encourages people of all disciplines to recognize injustice that pervades society and equips students with the skills and inspiration to find ways to change what is not okay, but is accepted as the way it is. This is what I imagined when I came to Harvard.
Professor Hanson is truly phenomenal, one of a kind. He and Jacob made an extraordinary team, and this course changed the way I see the world and the systems within it.
Subject matter is crucial to an appropriate comprehensive law school education . . . the course should be taught each year and more courses about institutional/structural legal work need to be offered at HLS
This was the very best class I've taken here! Hanson and Jacob should never stop teaching.
This was the best course I've taken in law school. It's attempt at systemic critique of the law and law school is necessary, urgent, and crucial. It helped me understand everything else I've "learned" in law school.
By ­far the best class I've had at law school. The kind of radical rethinking of legal and social structures I was hoping law school would provide but has otherwise been nowhere to be found.
This is the best course I've taken at HLS. It is so relevant to the everyday and does what no other course does: critiques the law, the system, the world. So organized and interesting with perfect mix of humor, videos, images and lecture….way too much work. Totally worth it . . . .
Hanson is an amazing professor and I believe his class was indispensable to my legal education.
So important. Should be required!
Thank you for an amazing class. Every single HLS student needs to take this.
This class was a desperately needed addition to the law school offerings. It was the only class I have taken in 3 years that has considered the failings of the American legal system and how to fix them . . . created a space and academic environment unlike any other at the law school and gave us a toolkit to analyze injustices…this course should be a required part of the 1L curriculum.
Every HLS student should be exposed to Hanson's Systemic Justice course.
Best class I've taken at HLS. Finally a class with subject matter I will take with me after the final. Thank you for teaching a course relevant to life. Please write a book so I may distribute to all my family and friends.
The law school course that's shaped how I think about the world the most. What you are doing is so important. Thank you. It's been an honor and a pleasure.
This course helps fill a gap in content and perspective at HLS. It presents an important perspective and set of analytical tools that should be available and encouraged for every law student, and certainly for every future lawyer aspiring to have a positive impact on her community, society and world. I hope this is only the first trickle of a much larger flow of justice-centered teaching and opportunities at HLS.
It should be mandatory. Most stimulating class I've taken in law school.
I absolutely loved this course; it filled a gap in my legal education.
This class changed my life, challenged and nourished my imagination.
This was the best class I've taken in law school – it has already shaped everything else I've learned and how I see the world.
This course should be mandatory.
100% recommended – this class should be mandatory. No other class provides the worldly context and depth into social issues that is necessary to be a responsible citizen and lawyer. This class is absolutely critical to producing well-rounded, aware, and socially concerned law students. It should be mandatory.
This was a wonderful course – it was refreshing to have a new perspective on the institution of law. This went above and beyond the normal law school class in the best way possible, and gave the opportunity to truly analyze whether our institutions are fair and just – an opportunity that is severely lacking (and needed) in my HLS experience…I would recommend this course to every single student at HLS.  Ideally, this course, or at least some aspect of its curriculum should be required for 1Ls here. Our understanding of the legal system can only be improved and made better by mandatory courses like this…I cannot express enough how valuable this course is. The administration should actively support the ability to teach courses like this, especially given the prestigious nature of this institution and our ability to shape the future for the better – something HLS doesn't encourage enough.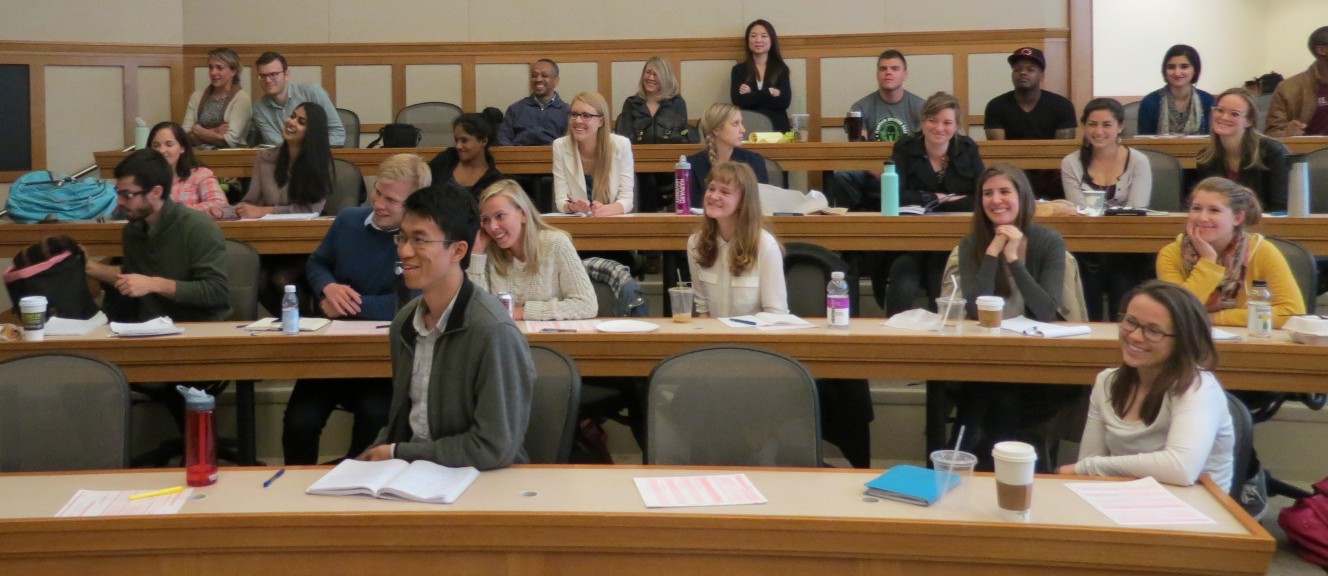 FROM E-MAILS and ONLINE SURVEY 2015:
Jon Hanson and Jacob Lipton are two of the most passionate, empathetic, and engaging leaders that I have had the privilege to learn from while at Harvard Law School. I think every law school student in the U.S., including every student at Harvard Law School, should be exposed to the material and concepts that Professor Hanson emphasizes throughout the semester in Systemic Justice. The Systemic Justice course opened my eyes to the history of legal theory, to the relevance of the mind sciences to the law, and to many of the most dramatic, long-standing, systemic, and troublesome problems that confront the U.S. and the world at large. The course has made me a better legal thinker and a better human being, which collectively will make me a better attorney.
The Systemic Justice course was probably the most valuable course I took at Harvard Law School. It provided a component of legal education that is largely missing from HLS by explicitly asking questions like: what biases are behind our legal doctrines? How do social, historical, political, and psychological dimensions affect our legal problems? Wrestling with these questions, using tools like the mind sciences and a critical examination of history, greatly enhanced my legal education.
I have no doubt that when I look back on my time at HLS, Systemic Justice will stand out as the most formative class. Professor Hanson and Jacob Lipton have provided us a framework with which to think about how the legal system distributes power. They have cultivated a classroom environment in which students feel comfortable testing out new ideas. And perhaps most importantly, they have left us feeling empowered to actually address injustices. More students would undoubtedly benefit from the extraordinary learning opportunity I've had this semester. It has been revelatory.
Professor Hanson and Jacob do a fantastic job contextualizing the law, allowing us to think critically to make us better lawyers. I entered the class unsure of how to bring the lessons of the previous semesters together, but upon graduating, I feel centered in understanding how the legal system contributes to and solves many of our societal issues. I write to tell you this with the understanding that the course may be under review, given that this is its first semester. I can say with certainty that none of the faculty urged me to write this; it is an accurate demonstration of my interest in the class and its affect on my development as a lawyer.
Systemic Justice should be a required course for all HLS students. It is the only class I have taken so far that has allowed me to truly engage with the pursuit of justice in our society, instead of just discussing technical aspects of the law. It has reminded me that a whole world exists outside of the narrow confines of HLS and the career paths that we choose. No matter what kind of views or beliefs you hold, Systemic Justice will challenge you and widen your perspective and make you a better student, lawyer, and human being.
Systemic Justice was not a course — it was a call to action. It discussed injustices and inequalities related to race, gender, income, education, etc., that most courses and professors shy away from because they can be uncomfortable and controversial. However, it is that very content that convincingly makes the case for why these discussions must occur — because such salient injustice persists and pervades society. And Jon & Jacob work to create a space in which these lessons lead to thoughtful discussion and inspiration to contribute toward improving the world in which we live. Jon and Jacob do not fill students with the notion that they are going to go out in to the world and be the next Gandhi or rectify hundred year old problems in a "poof." But they work hard to ensure students understand that their actions either contribute to the persistence of systemic injustice, or they don't. And they encourage us to find ways to help, to be discerning global citizens who feel and demonstrate empathy towards all others, and to not accept the status quo when the status quo is unjust. Prior to becoming an HGSE student, I taught high school for seven years and strongly urge it to be a required course for educators. In order to understand what our students face and to teach them how to be advocates for social justice, we have to understand what injustice exists. This course has heightened my understanding of every facet of society and despite the emotional difficulty that comes with the new terrain of addressing uncomfortable content so bluntly, I left each day inspired and invigorated and hopeful. It taught me that there are many of us who care enough to try.
I was extremely glad to take the Systemic Justice course my 3L spring. Although I felt I had an excellent doctrinal education at HLS, I had missed any kind of formal education in any critical approach to the law. I feel that this experience is common at HLS, even among students who genuinely care about the public interest and social justice. The Systemic Justice course filled that void by providing an important critical approach. The course drew on psychology and sociology to critique the predominant notion of human behavior as being shaped by stable dispositions. It relied on empirical research to show that human behavior is affected by our situations far more than we realize. Based on this foundational understanding of the human person, the course offered a revolutionary critique of existing law and policy, legal education, and legal scholarship. It provided me with a new paradigm and vocabulary for thinking about and critiquing the law in all areas, including in my field of environmental law. Because our conception of the human person is so important to our understanding of law, and yet the conventional dispositionist understanding is so flawed, I found myself rethinking a great deal of what I had learned in law school, including how I think about environmental law. The relevance of the course also meant it found its way into countless conversations with friends, and those conversations were much enriched by our explorations of the nature of the human mind based on what I learned from the course. Another highlight was the sense of community that Prof. Hanson created. Unlike any other course I have taken at HLS, each class begins with students introducing their visitors, and making announcements about justice-related events they are involved in. While this takes only a little time, it helped me feel that I was not just a passive receptor for a knowledge dump from the professor, but actively partaking in a common dialogue to seek justice. Yet a third highlight was the display of visual illusions and advertisements every day in class. Although these may appear frivolous in a law school context, they were critical in making me personally experience and reflect upon the cognitive biases and market manipulation that formed the substance of the course. As they say, "seeing is believing," and use of these audiovisual teaching tools was a far more way effective of teaching us about the human mind as opposed to only lecturing or reading. Overall, the Systemic Justice course has shaped how I think about law and legal education. It has raised my awareness about important and timely issues of law and policy (such as racial justice, wealth inequality, corporate power, animal rights, climate change, and more), provoked countless thoughtful conversations with friends and colleagues, and incited critical self-reflection about my role in the system and my vocational path. The course has provided me with a new language and schema for understanding the issues of injustice, inequality, and power; a paradigm which I now feel comfortable in applying in novel settings. It expanded my vision of what was possible for law and legal education and has deepened my appreciation of the mission statement of our law school: To educate leaders who contribute to the advancement of justice and the well being of society. It has taken my raw concerns for the well-being of our society and given me new tools to understand and act upon them in the pursuit of justice. It has made me a better lawyer and citizen. Prof. Hanson and Jacob Lipton have made a significant and timely contribution to the HLS curriculum. Their teachings have illumined my mind and my life, and I hope that this light will shine forth and brighten the paths of many more students in the years to come.
The Systemic Justice class provided an opportunity to reconnect with the things that brought me to law school in the first place. As someone fiercely committed to public interest work, I found it refreshing to take a class that allowed me to reflect deeply on the many entrenched problems facing our global community and to think critically about the most effective, innovative ways to move forward. We are at a special institution, surrounded by the social capital and brilliant students and scholars who have the potential to change the world for the better. This class encourages the very values and leadership that would attract students to HLS in years to come.The emphasis on human psychology and the ways that we rationalize inequality has fundamentally changed how I approach my work. I can't speak highly enough of this opportunity and of the welcoming environment that Systemic Justice created.
It was heartening to see an alternative perspective being taught so enthusiastically at HLS. I gained a lot not just because of the course material, but also because the nature of interactions I had. It is always great to meet other people who are genuinely concerned about systemic injustices in the world. One of the great features of the course was that it identified not only the various forms of injustices, but sought to identify their root causes to the extent of evaluating the mind sciences for improving our understanding of the world around us.
This course changed the way I look at the world and those who inhabit it.
This was an important class at an important time on the HLS campus. Some of the most important class discussions I've heard happened in Systemic Justice, and it's a necessary outlet for a segment of the HLS population. I wish it's ideas and perspective were more central to legal education generally, and I'm so glad to have taken this class
Systemic Justice is a great reminder of why so many of us decide to pursue law school in the first place. This course is a phenomenal step towards changing legal education from a means to reinforce the status quo into a vehicle for addressing persistent policy problems.
Professor Hanson gives his Systemic Justice students real power to make a difference. He teaches both information that law students desperately need and an approach that equips students to engage critically with their legal education. Taking this class is a wonderful experience. I wish that all law students could have the opportunity.
Systemic Justice was an inspirational and important course, and adds great value to the Harvard Law School curriculum. The course led me to analyze the world, the human mind, and the law in new ways, and gave me new frameworks and terminology to more clearly describe ways I already saw the world. I also learned about important events and trends in the history of law and power. The course also consciously built a community of justice-oriented students, which I expect will continue to thrive in and out of the Systemic Justice Project, both as students and alumni. Through the Systemic Justice Conference and other events, the course and students engaged with the HLS and broader community on the most pressing national and global problems, and the course encouraged students to be active in their pursuit of justice outside of class. I strongly support this program's development, feel very lucky to have been able to participate in its first year, and am very excited to see where it will go in the years ahead! I would be thrilled to continue to participate in Systemic Justice Project activities as an alumnus, and look forward to steering future students towards Professor Hanson and Jacob as mentors, teachers, and community organizers (which I use as a compliment, not a slight).

FROM PRESS:
From Boston Globe:
"Rena Karefa-Johnson, a second-year student who's signed up for both the Systemic Justice class and the Justice Lab, admits that some students simply want to learn existing law and don't appreciate Hanson's approach. But it's been popular with students like her who are already active in fighting for social causes. 'The law is inherently political,' she says. 'He does not allow his students to learn the law outside of its context.'"

The Justice Lab
FROM COURSE EVALUATIONS 2015

FANTASTIC! Speakers were great, structure was innovative, class was amazing.
It presents a unique opportunity for students to explore the law and its implementation that otherwise goes unaddressed
Such a wonderful breath of fresh air in an otherwise dry and stifling law school experience.
Most worthwhile thing happening at HLS right now
A great class in every way…one of the best classes I've taken
…fills a much needed gap in legal education. This is the first class I've taken that reminds me of why I came to law school
This course allowed me to finally connect law school to issues that really matter
This class is innovative, intellectually challenging and actually relevant! The only class I've taken here where I've felt like our work is making a meaningful contribution to improving our world. I hope everyone can take this class.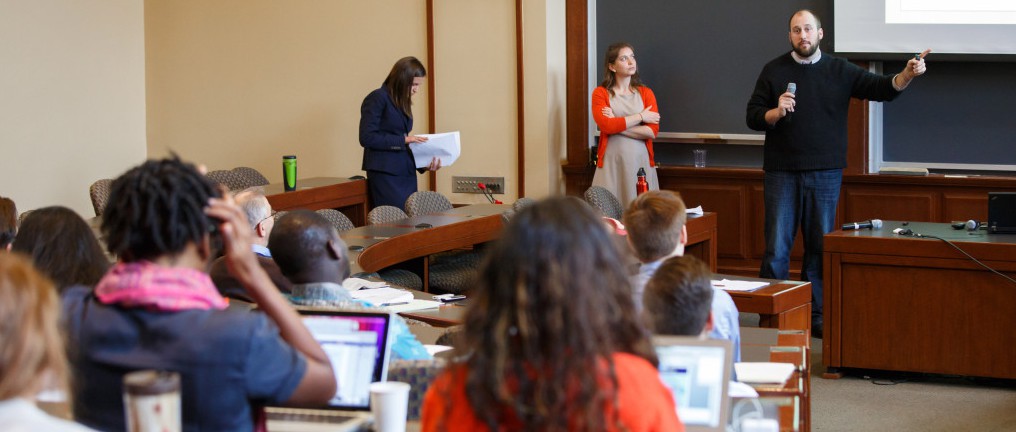 FROM E-MAILS and ONLINE SURVEY 2015:
Justice lab is a unique class in law school. It gave me the opportunity to delve in depth into an issue I care about. It is a great opportunity to contextualize the law that I am learning in other classes. It also gave me a community of people who are also passionate about law and its potential to affect change. This kind of community is often missing in law school.
This course was the highlight of my academic experience at HLS. I am grateful that as a 3L, I was finally able to have the kind of academic experience I had been craving throughout law school–one where I could work with peers to tackle real-life problems that we feel passionate about solving. My legal education actually felt relevant and applicable in a way that it rarely has in traditional law school classes. The justice lab made me feel hopeful that we can begin to address systemic injustices through multi-pronged, interdisciplinary approaches. It was critical to have the safe and communal space created by the justice lab in order to have the freedom to think broadly, creatively, and beyond the narrow confines of traditional legal approaches. This course models what legal education should be–creative, innovative, useful, relevant, and inspiring.
The Justice Lab walks the walk in trying to imagine a new mode of legal education. I learned plenty of law in this class – parts of criminal law, civil procedure, and federal courts were bound up in my project – but crucially, I learned them in the context of something bigger and more meaningful. HLS students, for better or for worse, will usually accomplish what's asked of them. The Justice Lab shows that we should be more ambitious and more optimistic in the goals we set for students. Many thanks for Jon and Jacob's courage and diligence in creating this and guiding us through its inaugural semester.
The Justice Lab was a welcome change of pace for me. Law School can feel like running in a hamster wheel. Each day is the same: read cases, big lecture class where cases are discussed, another big lecture, read cases again. We receive no feedback until exams at the end of the semester, which are anonymous and timed, so it is difficult to feel any ownership or pride. In the Justice Lab, we did different things every day. Some days we had guest lecturers, some days we worked in teams, some days we presented on our project, and some days we gave feedback to other groups. Because of the variety of activities that we participated in the Justice Lab class, class never felt stale. Additionally, because we presented our project to the class and then presented it again at the Conference, we had an opportunity to learn and grow. And, because we picked the topics of our projects, we were able to apply the skills that we have learned in other classes to something that we care about it, making me appreciate the good that I can do with my law degree. I am so glad that I participated in the course!
The Systemic Justice Project provides a unique opportunity to explore the systemic causes and solutions to many different social justice issues. The class and lab bring together a diverse group of students, creating a unique social justice community at Harvard.
I have rarely had a class in which I both learned a wealth of new material (both policy and doctrine) and had the chance to actually work with it at the same time. Justice Lab took the best parts of a clinic and class and combined them into a very rewarding experience. In particular, the Systemic Justice Conference was one of the most enjoyable and educational experiences I have had at HLS. I look forward to the work produced by future iterations of the class!
The class was a unique experience in law school. Students' enthusiasm about their projects was contagious, and I loved the opportunity to learn from others who really became experts on their topics. Taking a systemic perspective made students hopeful about the possibility of change while being cognizant of the interrelated forces that so often interfere with meaningful systemic change. The class was also very special in its combination of challenging students to learn in new ways while making them feel supported and encouraged. I felt able to speak up, in front of my peers and in front of a conference, in a way that I had struggled to do in law school, largely because I felt passionate about my topic and supported by the sense of the community that the class had so intentionally fostered.
The Justice Lab gave us the opportunity to engage with our legal educations in a novel but critical way. It was the first time I was able to use all of these new legal tools to work as a team, think creatively about a problem I cared about, and also learn from my classmates about interesting issues they'd had the chance to think deeply about. These skills are so important, especially given the ever-growing challenges of climate change, inequality, and political gridlock we face. I can't imagine a law school class that better prepares me to be the kind of lawyer I hope to become.
FROM PRESS:
From Harvard Today:
Salomé Viljoen '16 was part of a team that studied the student-debt crisis, outlining, among other things, the onerous terms attached to the $1.2 trillion of student debt in the U.S. Viljoen described the conference as "one of the best days in law school I've ever had."
Quoating Sam Wheeler '15: "I think that what Systemic Justice has done for me is that it has showed me ways in which I could pursue the kind of career I wanted with the goals that I have for my life as a lawyer. I think that were it not for the systemic justice lab and Professor Hanson's approach to those issues, I seriously don't think that I would have pursued a career in law at all."