Join us for:
"She Said and the Story of the #MeToo Movement: A Lunch Talk with Jodi Kantor"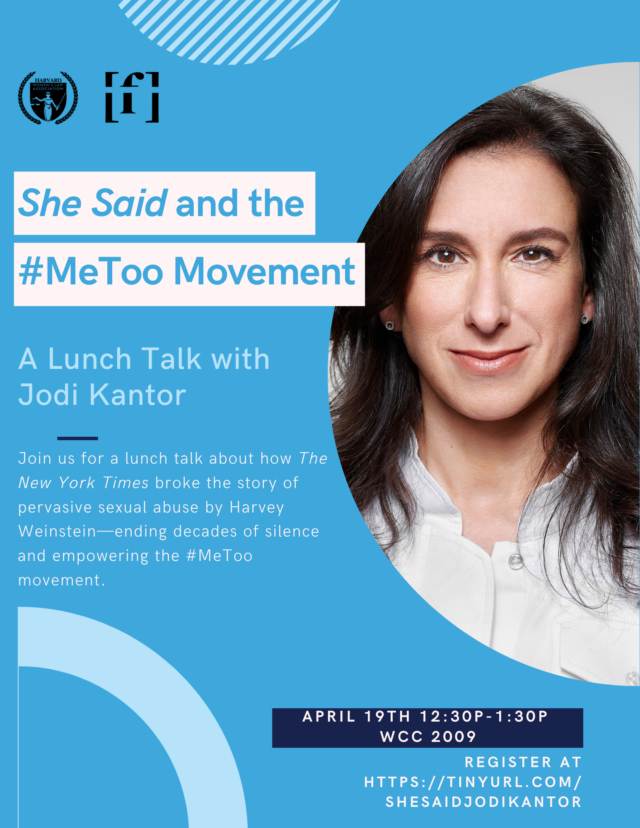 Join us for a lunch talk about how The New York Times broke the story of pervasive sexual abuse by Harvey Weinstein—ending decades of silence and empowering the #MeToo movement.
Wednesday, April 19th 12:30p – 1:30p, WCC 2009
Biography:
Lunch will be provided.
Co-Sponsored by the Harvard Women's Law Association and The [F]law. 
Jodi Kantor is a prize-winning investigative reporter for The New York Times and best-selling author whose work has revealed hidden truths about power, gender, technology, politics and culture.
In October 2017, she and Megan Twohey broke the story of decades of sexual abuse allegations against Harvey Weinstein. Their work helped ignite the #MeToo movement, shift attitudes, and spur new laws, policies and standards of accountability around the globe. Together with a team of colleagues, they were awarded the Pulitzer Prize for public service, journalism's highest award. They also received or shared in numerous other honors, including a George Polk award and being named to Time magazine's list of 100 most influential people of the year.
"She Said," their book recounting the Weinstein investigation, was called "an instant classic of investigative journalism" by the Washington Post and one of the top ten works of journalism of the decade by New York University. Ms. Kantor and Ms. Twohey later released "Chasing the Truth," a version of the book that introduces high school and college-aged readers to investigative journalism.
Ms. Kantor's earlier reporting on working mothers and breastfeeding inspired two readers to create the first free-standing lactation suite for nursing mothers. There are now over a thousand Mamava units across all 50 states. Her article about the havoc caused by automated scheduling systems in Starbucks workers' lives spurred changes at the company and helped spark a national fair-scheduling movement.
Over the years, her work on Amazon has had repeated impact: After she and David Streitfeld revealed punishing practices at corporate headquarters in 2015, the company introduced paternity leave, including at its warehouses. By investigating a Staten Island warehouse in 2021, Ms. Kantor, Karen Weise and Grace Ashford found serious problems with the company's employment systems nationwide, including 150 percent yearly turnover and a long history of erroneous terminations. The company admitted it had been more focused on customers than workers and vowed to fix its broken systems, while employees at the Staten Island warehouse drew on the information unearthed by The Times to help win a historic unionization vote.
Ms. Kantor began her career at Slate.com and joined The Times in 2003 as the editor of the Sunday Arts & Leisure section. For six years, she wrote about former president Barack Obama and Michelle Obama. Her book "The Obamas" chronicles their behind-the-scenes adjustment to the roles of president and first lady.
Ms. Kantor is a law school dropout, a former Nazi-hunting intern, a mother of two daughters, and a recipient of Columbia's University Medal of Excellence. Her husband, Ron Lieber, writes the "Your Money" column for The Times. She welcomes story tips, especially with documents. Please follow her work on Facebook, Twitter or Instagram.